The world knows and loves Central Park–almost 600 acres of man made, exquisite planning. Countless photos and videos, poems, love letters–memories for our visitors and us. Add to this our other grand parks and gardens scattered through the five boroughs, and our skyscraper-city shows its softer side.
But, this New Yorker–blogger often reminds friends–and everyone who will stop and listen–that scattered throughout the city are the minuscule (or a bit bigger) vest pocket parks that add heart to your vision and memory. Comfortable seating and greenery are often in a setting of waterfalls and sculpture or evolving artwork. For many of us, personal memories are attached to these gems, whether in fondness or heartbreak. (Since 9/11, silent heartbreaking markers of that unimaginable day can sometimes be found here.) For your New York visit, be sure to highlight some of these sweet green spaces.
And a worthwhile book describes 40 small parks.
MANHATTAN boasts many vest pocket parks…and in all neighborhoods, especially Downtown, Midtown and the Upper West Side. Not in a perfect geographical order are:
Further uptown, still on the East Side, find severalworthwhile green stops:
Come over to the West Side, uptown…and even further uptown!
In and out of the brownstone-housed side streets are small gardens that the street's occupants raised funds for and now support with further donations and loving care. Some are noted here, the true gem among them being the Westside Community Garden spanning West 89th-90th Street, near Columbus Avenue. The annual Tulip Festival in mid-April draws visitors from everywhere. As with so many of these small parks, loving and tireless volunteers create and maintain the greenswards, including constant fund-raising.
Sakura Park borders the Hudson River, "way north," Riverside Park and 122nd Street. Read the interesting history of this gifted arbor for New York City.
STATEN ISLAND
BROOKLYN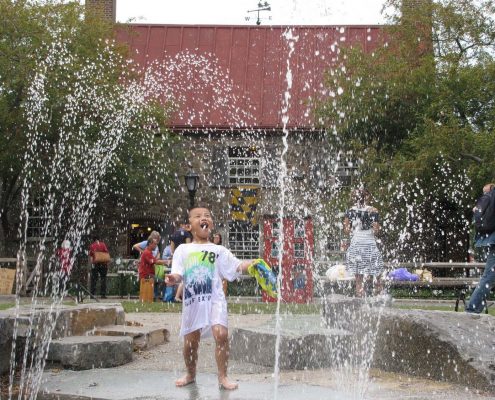 Brooklyn Bridge Park is really toooo big to be called a pocket park…but there it is! So beautiful!
QUEENS
The Queens Farm and Garden features a museum worth a visit, two acres in size, jumps out of the vest-pocket domain, but it is still small enough to call out to our wanderer-visitors
THE BRONX
An interesting outcome of the many gentrification projects in this very large borough is the inclusion of delightful tiny parks. This year of 2017 brings many articles on the gentrification begun and continuing in the borough, with a positive growth in visitors from across the USA and overseas. Lots to do still, but interesting in these early years. (Some good eats, too!)
For this writing, there is leaving out the grand parks of the Bronx (Van Cortlandt, Crotona, St. Mary's, Pelham Bay, the Botanical Gardens, Fresh Kills, Bronx River Park) for a few small gems of interest scattered through the borough:
I must stop here….
In many of our lower income neighborhoods, residents create these tiny green corners out of almost nothing–bricks, wooden boxes, little statues of just about everything; religious relics and, perhaps, African and Caribbean statues–toys, benches…all that can be gathered to make a sad, unwanted plot into a really precious community pocket garden. Socialization reigns here, with perhaps a quiet game of dominoes or grandmothers soothing children all together. Unfortunately, community housing needs often take over and destroy these tiny patches of lovely calm.
Tweet